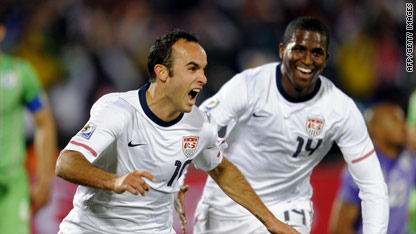 "We embody what Americans are about. We can moan about [inexplicably, inexcusably terrible calls] or we can get on with it, and we kept going. We believe, man."

"We're not done yet."
-Landon Donovan
Landon Donovan catapulted the Americans from leaving the dance early to winning their group. With one goal. Whenever I need a reminder of
American resiliency
, or whenever I just need to feel better, I will watch that golden goal in the 91st minute.
"We're not done yet."
Step into the rain: secondrain.blogspot.com